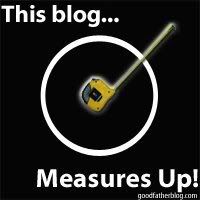 This is really exciting! This is an award from my pal Allie at
Allie's Creative Designs
. She is SO sweet!! Go check her out, she is a designer for Victoria Case Stamps and she creates some awesome cards!!! THANKS ALLIE!!!
Now, I am supposed to say 1 nice thing about the man in my life: Chris, you are totally amazing. You can accomplish ANYTHING and I love how hard you try.
Six ways I measure success in my life. I don't know that there are six ways. I know when I am happy. I know when I am loved. I know how happy my family and critters make me =). I know that my creativity and talent were given to me and that I need to strive hard everyday to develop further.
I also need to pass this award along to 5 others. That will take a little while but I promise to do so! Thanks again ALLIE!!! =)