I've been such a slacker! Man...I rushed to get everything done so I could feel good about leaving everyone for 5 days and then got home and have had SO much to do. I am still not completely caught up but I am beginning to see the light at least! Whew!
I went to CHA in Californa. WOW! There was SO much to see! Too much actually. I didn't get to play with new items and learn new techniques like I thought but 'looking' was nice. I was all set to really play and when that didn't happen I was so disappointed. Oh well, live and learn. Several of the booths had make and takes that I would have LOVED to do but there wasn't time or the line was longer than there was seating, etc.
On a brighter note, I went to a Stampin' Up party this weekend and we made a card using the coolest technique. I can't show you the technique simply because I don't have the supplies needed but I can tell you and then post a picture of the finished project!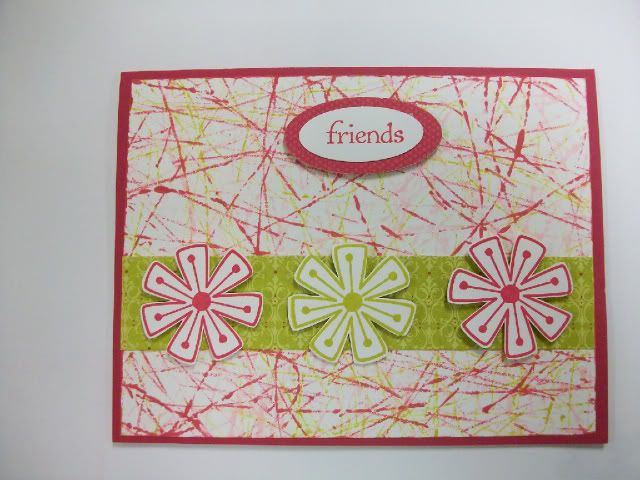 SO much fun! We took 3 of the plastic boxes that the rubber stamp sets are kept in and squirted a few drops of ink from the Stamp Pad Reinkers in a dark, medium and light color scheme, 1 ink per box. For our project we used a burgandy card base, white cardstock and an olive patterened paper so the inks were burgandy (really red I think), olive and rose. Put a piece of repositionable adhesive on the inside of the plastic box lid, several drops of one color ink and 3 glass marbles. Yep, like the kids used to play with. Now take your white piece of cardstock and stick it to the adhesive. Close the lid and start rolling and shaking the box so that the marbles make contact with the paper. Start with the darkest ink first in this case the really red. After you get a design you like, move to the second box-the next lighter color, in this case olive green. Last, the rose! What a great technique and the card is SO cute! You could use this for photo mats in scrapbooking too! Try it sometime! You will NEVER get the same look twice!! Let the kids help!!! =)